Lead a team of five very capable and talented authors to create this book for Syngress Publishing . The book discuss in depth how to integrate Nagios into a large organization and also provides a nice plugin cookbook-style chapter that focuses on SNMP.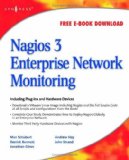 If you have purchased this book and have any questions, please go to http://www.nagios3book.com and there you will find a link to the book mailing list along with all of the source code from the book.
The authors who worked with me to create this book are:
Derrick Bennett
John Strand
Andrew Hay
Jonathan Gines
A special thank you to each of them for their hard work on this project. You all rock!
— Max Schubert
Comment
Why you should not use the default HSQLDB backend with Confluence Where do I find documentation for Ruby, Perl, and PHP libraries?